Meet Attorney Addison Adams
Using 20+ Years of Experience to Grow Your Business
Addison Adams founded Adams Corporate Law, Inc. in June of 2015. Mr. Adams has practiced law for 20 years, most of which was as a founding equity partner of a Los Angeles-based boutique securities firm named Richardson & Patel LLP.
Areas of Expertise
Addison Adams is a full-service lawyer for businesses who takes pride in his client relationships and satisfaction. Mr. Adams acts as outside general counsel for many companies in Southern California and provides a diverse knowledge base that includes:
Mr. Adams' background in litigation enables him to negotiate well-drafted agreements and resolve commercial disputes efficiently. His litigation experience includes shareholder derivative lawsuits, partner disputes, class actions, unfair competition, copyright infringement, complex litigation, real property, commercial disputes, and securities claims.
Licenses & Education
Mr. Adams received his Bachelor of Science degree in Finance from the University of Arizona in 1992. He received his Juris Doctorate from the University of San Diego in 1996. He is licensed to practice law in California and is admitted to practice in the Federal and State courts located throughout Southern California. Mr. Adams held an active California real estate broker license from 1992 – 2005.
Speaking Engagements
2003 – Startup company legal issues: Corporate formation and finance – American Express Entrepreneur Forum.
2007 – Trading Restricted Shares under Rule 144 – The Reverse Merger Conference.
2013 – Prepare Now to Address Your Buyer's Fears – Exit Coach Radio Internet Podcast.
2014 – The JOBS Act and Online Funding Portals – Provisors M&A3.
2015 – How to Protect and Structure Your Business for Growth and Investment – Catapult Your Business Show Internet Podcast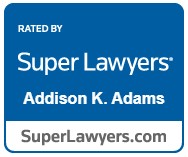 Contact Attorney Addison Adams today at (714) 699-9602.